FOR AS LONG AS I CAN REMEMBER, HAIR WAS ALWAYS A DEFINING FEATURE FOR THE OLDER WOMEN IN MY FAMILY. WHETHER IT WAS MY GRANDMOTHER'S GOLDEN BLONDE TRESSES OR HER SISTER'S EXTRAVAGANT WIG COLLECTION, MAMA'S LARGER THAN LIFE PERM OR MY AUNT'S SILKY SMOOTH MANE, GOOD HAIR WAS AN INVESTMENT AND A NECESSITY.
Through the most recent archival work of legendary contemporary African photographer J. D. 'Okhai Ojeikere, one can easily see that African women have taken great pride in their crowns – cultural significance and aesthetic beauty. For women who were in the public eye, leaders and artists, hair may have been a way of establishing one's identity, a symbol of resistance and a celebration of the divine self.
From the great rulers of Ancient Egypt to the warrior women of Nigeria, we interpret the hairstyles of powerful women whose crowns played a role in establishing who they became.
ANGELIQUE KIDJO, SINGER-SONGWRITER, BENIN 
Grammy award-winning Kidjo is one of the most prominent forces in music on the African continent. Kidjo grew up listening to South African artists like Miriam Makeba and Hugh Masekela as well as international greats like Jimi Hendrix, influences which resonate with eclectic sound and style. One of her first major hits Agolo, was released in 1994 and featured a futuristic video with women adorned in golden accessories and headwear – as well as the images of the sun and the moon which represent divinity in many cultures. Kidjo's signature short blonde do, a very rare hairstyle for women from Benin at the time, gave her an androgynous appearance which screams power. She is the quintessential African diva and her hairstyle can be interpreted by experimenting with variations of the blonde colour to suit one's preference.

ORIGINAL QUEEN
NANDI THE ZULU QUEEN 
Nandi kaBhebhe eLangeni was the warrior mother of Shaka Zulu, who single-handedly raised her children at a time where that was almost unheard of. Nandi played a big role in Shaka's imminent rise to being King when he campaigned and eventually won the title over Zululand. The Queen had a chief role in military organisation in villages and also battled slave traders. Nandi was undeniably beautiful, a prominent feature in depictions of her was her headwear, "isicholo" typically worn by married women, although she wasn't. Nandi wore hers like a crown and she exuded immense strength having groomed Shaka to be a King and later rule beside him. Isicholo are worn by modern women as accessories, the historical process of weaving the hat into hair has changed and the hats are just worm separately – stars like Beyoncé have interpreted the shape of the Zulu hat, also similarly worn by the Mangbetu people of Congo in the 1930s as well as Queen Nefertiti as seen in the busts left behind from her rule. The bold hairstyle interpretation of the headwear can be achieved by sewing braid extensions on top of the head in a circular dome shape.

ORIGINAL QUEEN
NEFERTARI, EGYPT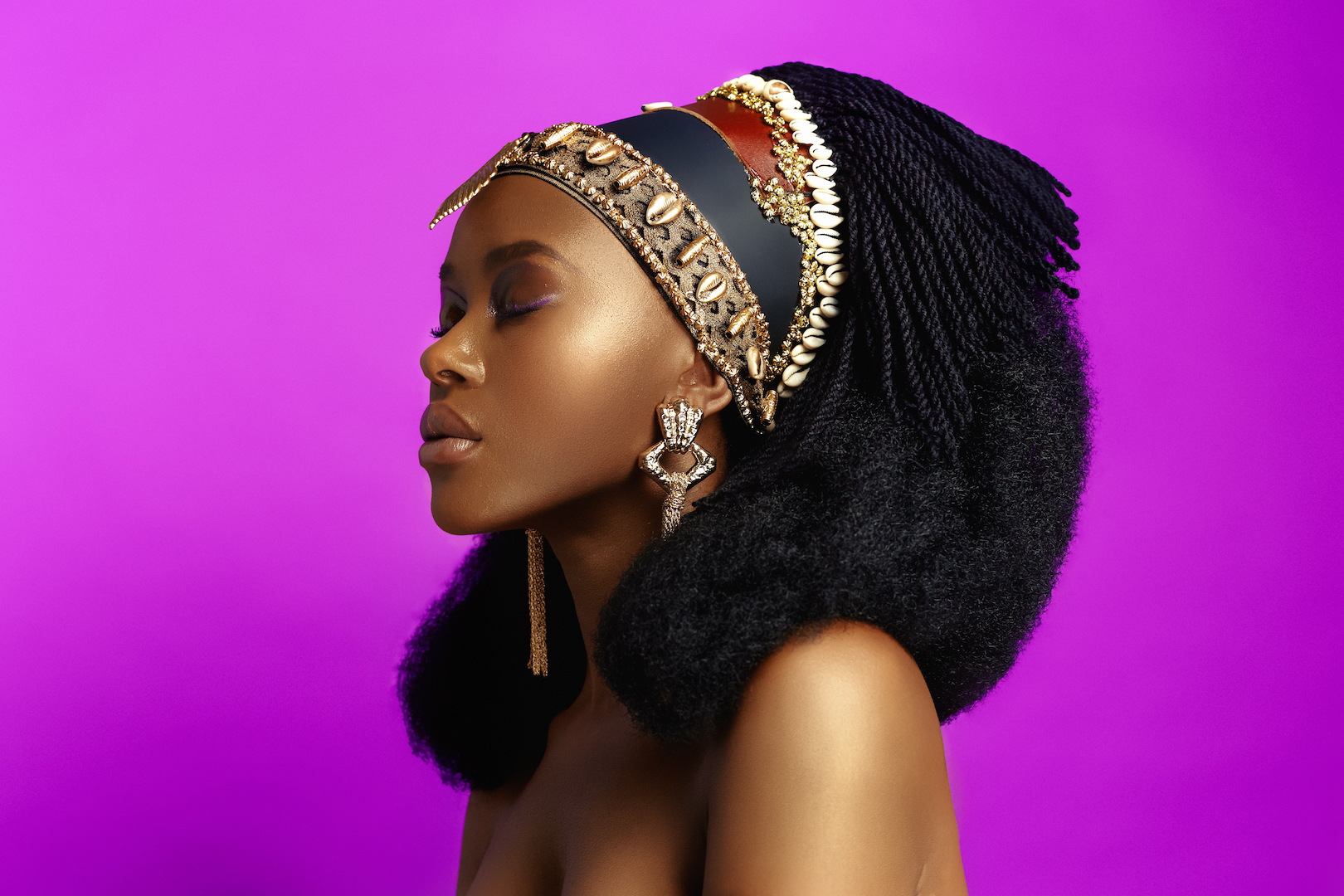 Queen Nefertari Meritmut, one of the great royal wives of Ramesses the great and is one of the best known Egyptian Queens next to Cleopatra and Nefertiti. Nefertari was as smart as she was beautiful, having had the ability to read and write hieroglyphics, she was able to liaise and make important communications in court bringing peace with kingdoms that were once enemies.
Nefertari had a statue built in her honour and her tomb was greatly adorned – in many of her depictions she wears silver earrings with a labrys design, also known as a double axe design which has been used as a feminist symbol since the 1970s. A queen of Nefertari's stature, the chief wife of Rameses the Great owned elaborate head dresses, hers included large crown pieces shaped like bird wings, sometimes with the symbol of the sun worn over a black wig.  Her tomb is one of the most beautiful to ever be discovered in the history of ancient Egypt, embellished with beautiful paintings in hieroglyphics. Her hairstyle mimics that of modern day woman who wants to be on the cutting edge of trends. A bob is a powerful hairstyle, then and now and symbolic of an often overlooked era of great African wealth and opulence.

ORIGINAL QUEEN
AMINA, QUEEN OF ZAZZAU (ZARIA), A CITY IN THE KADUNA STATE, NIGERIA
Amina, daughter of Nikatau, a woman as capable as a man. Historians say that Amina (Also called Aminatu) was a Hausa warrior queen who ruled over Zazzau during the 15th century and the first woman to ever rule in a male-dominated military society. A lot of what is believed about her is through oral history, she inherited the thrown after her brother's passing whilst emerging a woman of great courage, militancy and strength. Amina refused to marry in order to retain power and with it, she helped Zazzau become the centre of trade, she introduced metal armour to her people and was the architect of some of the first walls which expanded and protected the territory of Hausa, many of which still stand today. Amina wore her hair like a warrior, often depicted in a bright headscarf with loose braids – history has seemed to repeat itself as many interpretations of her hairstyle exist today. A modern day take on the loose braids worn in what we call the Fulani braids hairstyle, borrowed from the Fula people includes the styling of the plaits in elaborate patterns and adding beads.

ORIGINAL QUEEN
BOOM SHAKA 
Lebo Mathosa and Thembi Seete burst onto the South African music scene at a time when South Africa was making the difficult transition into post-Apartheid. For young black musicians, music was a means of telling the truth but also about breaking the rules. One of the most prominent kwaito-pop groups Boom Shaka, led by Mathosa and Seete became a household name for their edgy style and hairstyles. The Boom Shaka braids or box braids as they are now called were sported by many women at the time (Remember Janet Jackson in Poetic Justice?) or Solange Knowles circa 2012 but none quite like Lebo and Thembi who seem to have influenced fashion then and now.  Many talk about what was considered controversial stage gear and lyrical content, when in reality, they were women who exercised agency over their bodies through fashion and beauty. We love how thick long braids continue to be reinvented year after year with the addition of colours, zig-zag patterns and headscarves.

ORIGINAL QUEENS
CREATIVE TEAM:
Photographer: Obakeng Molepe
Hair: Mimi Duma
Assistant: Unathi
Make-up: Alex Botha
Assistant: Bassie Queen
MODELS:
Angélique Kidjo: Tshepang Mollison
Queen Nefertari: Lindiwe Dim
Boom Shaka: Mpho Mofokeng
Queen Amina: Palesa Kgasane
Nandi Zulu Queen: Ithumeleng Modise
MUSES:
Image of Angelique Kidjo: Angelique Kidjo
Image of Queen Nefertari: Wikipedia
Image of Boomshaka: Thabochaka
Image of Queen Amina: Judith Audi's Blog
Image of Nando the Zulu Queen: We buy black