THERE'S SO MUCH MORE THAN WHAT MEETS THE EYE FOR MULTI-WINNING MUSICIAN, SONGWRITER AND PRESENTER ROUGE.
ROUGE, WHOSE BIRTH NAME IS DEKO BARBARA-JESSICA WEDI, IS A FIRST-GENERATION CONGOLESE SOUTH AFRICAN, BORN AND RAISED IN PRETORIA. TO HER LIST OF ACCOMPLISHMENTS, THE MBONGO ZAKA HITMAKER HOLDS A DEGREE IN THEATRE AND PERFORMANCE, WHICH HAD ADDED TO HER CREATIVE FLARE AND INDUSTRY SMARTS. WHEN IT COMES TO MUSIC, THE 26-YEAR-OLD'S SUCCESS AS A RAPPER, WAS SOMETHING THAT HAPPENED BY CHANCE AND IN JUST A FEW YEARS, ROUGE HAS LEFT A BIG IMPRESSION ON HER FANS AND PAVED HER WAY TO GREATNESS IN A VERY MALE-DRIVEN HIP HOP INDUSTRY.
A SLOW PERUSAL THROUGH HER INSTAGRAM REVEALS A SOFT, BUBBLY SIDE THAT IS QUITE A CONTRAST TO HER ON STAGE ALPHA PERSON – THERE IS AN UNDENIABLE REALNESS ABOUT ROUGE AND IT COMES AS A SURPRISE THAT SHE HAS BECOME A ROLE MODEL TO SO MANY YOUNG WOMEN IN THE GAME.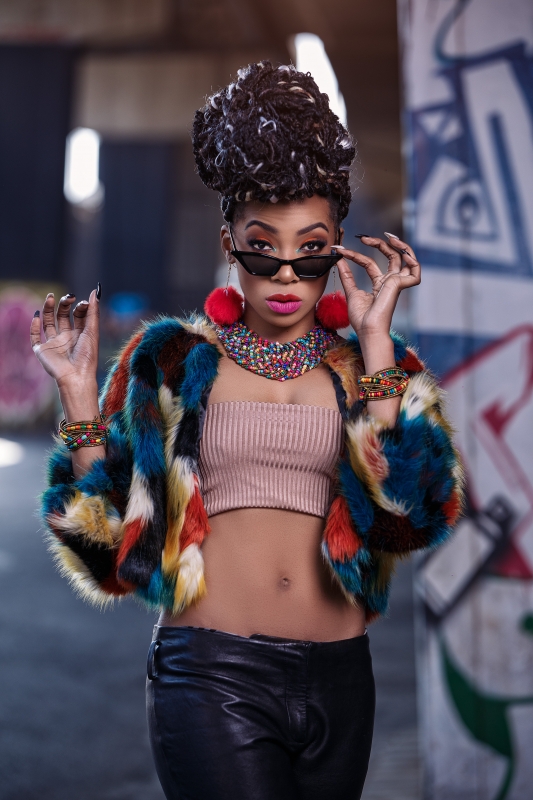 ROUGE IS RED IN FRENCH, WHAT WAS THE INSPIRATION BEHIND YOUR NAME?
What the colour "red" represents; Love, passion, quick to grab attention, fire. All the things I feel encompass who I am on the inside.
WHEN DID YOU KNOW THAT YOU WANTED TO BE A RAPPER AND ESTABLISH A CAREER IN MUSIC?
When I was 19 and my friend taught me how to rap…. I knew this was my calling after that day.
 CAREER HIGHLIGHTS THUS FAR?
Traveling to Uganda, it was an eye opener.
 THERE AREN'T MANY FEMALE MUSICIANS IN THE GAME, WAS THAT EVER SOMETHING THAT SCARED YOU?
Not at all more than anything, I saw it as an opportunity.
DESCRIBE YOUR PERSONAL STYLE?
Edgy, comfortable with a tiny bit of sexiness.
IS YOUR HAIR AN EXTENSIONÂ OF YOUR STYLE?
Very much so… You can't think Rouge without thinking "what hairstyle is she rocking now?"
AND IT'S ALWAYS CHANGING, WE'VE SEEN QUITE A BIT OF EXPERIMENTATION FROM YOU, TELL US ABOUT THAT?
There is always time for growth and change and that includes my appearance too. My hair really is that one thing giving away a transition in my life. It's the main way I express which direction  I'm heading in in terms of my journey.
 WHAT WOULD BE YOUR GO-TO HAIRSTYLE IF YOU HAD TO CHOOSE ONE YOU WOULD WEAR ALL YEAR?
If I could, Natural!
SHARE YOUR SECRET WITH US – WHO DOES YOUR HAIR?
WHAT IS PROCESS OF CHOOSING A HAIRSTYLE FOR PERFORMANCES?
There are a few factors; has the crowd seen this look,  what's the weather going to be and what I'll be wearing to perform.
ARE THERE ANY SPECIFIC PEOPLE/CULTURE THAT YOU TAKE YOUR INSPIRATION FROM WHEN IT COMES TO YOUR HAIR?
All I can say is the late 80s and early 90s are really playing their role.
WHAT CAN WE EXPECT FROM ROUGE IN THE FUTURE?
A lot more music, fashion, film and opening doors for others too.